Almond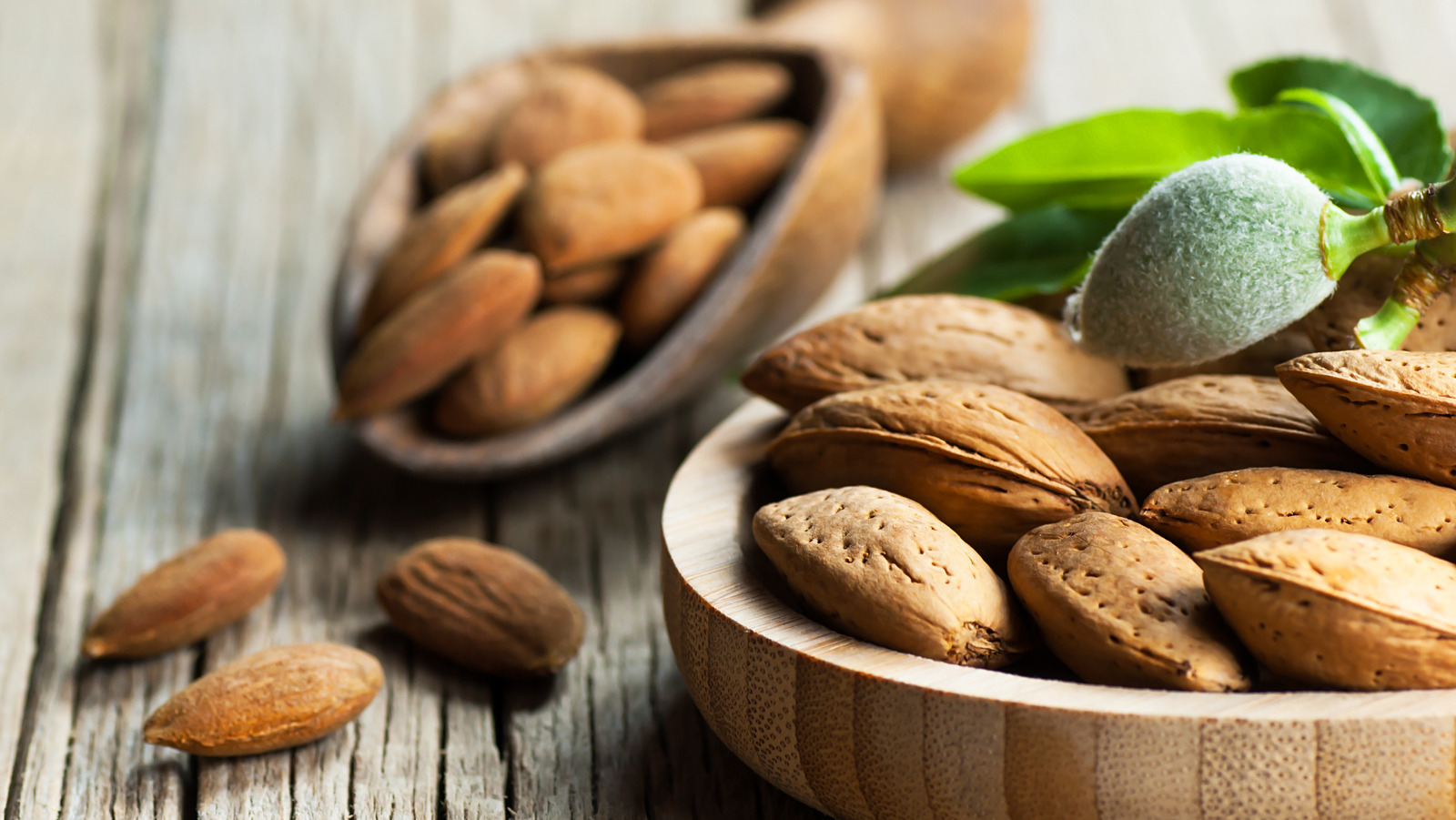 Almonds are a stone fruit, but we consider them a nut whose beneficial properties are used in medicine, cosmetology and cooking. Almonds have antioxidant properties and improve skin, hair and teeth, increase male potency, stimulate brain activity and calm the nervous system. People suffering from bronchial asthma and pneumonia are well aware of the benefits of almonds, as they are often recommended to eat ground almonds with sugar, which have a beneficial effect on the respiratory system.
They are very useful for treating gastritis and stomach ulcers, anaemia and vitamin deficiencies, and are only harmful to allergy sufferers. Unripe almonds should not be eaten as they contain toxic hydrocyanic acid. Weight watchers are well aware of the amount of calories in almonds, so they are afraid to add them to their diet, and in vain, as they are rich in vitamin E, B vitamins, minerals and trace elements, which are lacking in diets.
Types of Almonds
There are two types of almonds:
Sweet almonds are used for food and bitter almonds are forbidden, but they are used to make a delicious almond butter which is used to flavour drinks, such as Amaretto liqueur. In cooking, almonds can be used in desserts and cakes, as well as in salads, appetizers, sauces, hot dishes, meat and vegetable dishes, as they have a subtle aroma and flavour. Almonds are used to make marzipan to decorate cakes and pastries, almond flour to give cakes a delicate nutty flavour, macaroons, which are made with chopped nuts, and meringues. Roasted and salted almonds make a good aperitif with beer, and almond ahoblanco is refreshing in the summer heat.
The health benefits of almonds
Delays ageing and reduces the risk of serious diseases.
This effect is due to the high content of antioxidants. Antioxidants are substances that fight free radicals that damage molecules in organs and tissues (this process is called oxidative stress). Modern medicine believes that free radicals are responsible for accelerated ageing, chronic internal inflammation and dangerous diseases such as cancer, brain dysfunction and cardiovascular problems.
Antioxidants are abundant in the nut itself. But most are found in its brown rind.
It has not been established how many almonds you need to eat to get the optimal amount of antioxidants. Very few studies are available. For example, in one study involving 60 male smokers, scientists found that about 80 grams of almonds a day reduced oxidative stress by 23-34%.
Almonds make skin soft and supple
Almonds are one of the best sources of tocopherol (also known as vitamin E). Just 28 grams of nuts provide 37% of the recommended daily amount of this substance. Vitamin E is essential for the skin. It helps it resist environmental damage and prevents wrinkles. Manganese deserves a special mention: the same 28 grams of walnuts contain up to 32% of the recommended daily amount. And this element plays a key role in the production of collagen, the main skin-forming protein.
Helps control blood sugar levels
Magnesium, which is also abundant in almonds, is responsible for this bonus. 50 grams of nuts provide about half the daily amount of this mineral. Magnesium is involved in more than 300 processes in the body. It also helps to maintain healthy blood sugar levels. Statistics show that up to 38% of people with type 2 diabetes suffer from magnesium deficiency. Taking magnesium supplements helps to lower blood glucose levels and increase insulin sensitivity. Almonds can play an important role as a dietary supplement.
Doctors associate magnesium deficiency with the development of hypertension. Magnesium supplementation – at least in the form of nuts – can lower blood pressure.
Almonds reduce bad cholesterol
There are different types of cholesterol: bad cholesterol (which is part of low-density lipoproteins – LDL) and good cholesterol (which is part of high-density lipoproteins – HDL). While the "good" is necessary, the "bad" is downright dangerous: it seriously increases the risk of cardiovascular problems. High LDL is defined as a blood LDL level above 190 mg/dl. Almonds can reduce the risk.
A 16-week study involving 65 people with pre-diabetes showed that eating 50 grams of nuts a day reduced bad cholesterol levels by an average of 12.4 mg/dl. Another study confirms these results. Those who ate about 40 grams of almonds a day reduced their LDL levels by 5.3 mg/dl. They also lost deposits around the belly, the most dangerous type of fat: visceral fat.
Helps you control your weight
Everyone knows that nuts contain a lot of calories, and they really do. In 28 grams of almonds, which is only 14-15 kernels, there are more than 160 kcal. But this calorie content has nothing to do with weight gain. It has to do with two factors.
Firstly, some of the fat in almonds is not digested: it is not affected by digestive enzymes.
Secondly, they contain a lot of fibre: once in the stomach, it swells and creates a feeling of fullness that lasts for a long time. A handful of almonds, which do not have that many 160 calories, can really satiate you. It reduces the risk of overeating.
Some studies suggest even more satisfying things. For example, the fact that eating nuts causes the body to expend more energy when at rest. People who regularly eat almonds lose excess weight more easily and quickly than others.
Makes hair stronger and shinier
Almonds contain essential vitamins, minerals and trace elements to improve hair health. Vitamin E, for example, increases hair thickness, accelerates hair growth and even helps with various types of hair loss.
Almonds boost memory and improve brain health
Almonds are rich in omega-3 essential fatty acids, especially alpha-linolenic acid. Combined with antioxidants, omega-3 supports brain health: it improves memory, normalises cognitive function and protects against the development of all kinds of disorders, including depression.
You may also like: